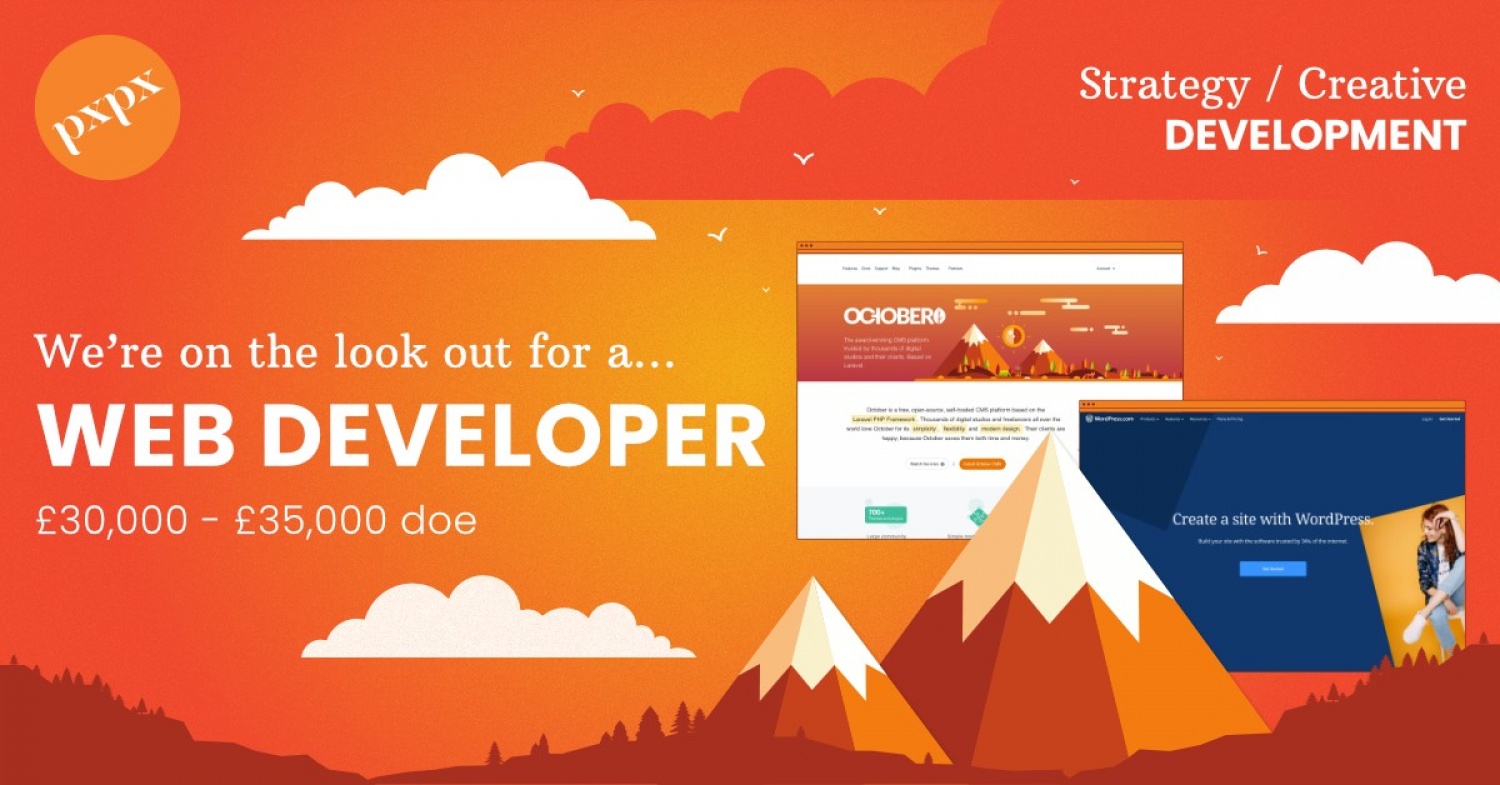 You'll join our welcoming team of development, creative and strategic experts to work on a range of diverse web projects – bringing your 'all-rounder' experience to both front and back end development tasks.
It's a great time to join our growing team and help with moulding the direction and ongoing success of a forward-thinking, modern web agency.
How can you help?
As a Web Developer, you will work closely with our Managing Director, Digital Delivery Manager, and existing in-house and remote developers. As well as servicing and fulfilling client retainer work and new projects, you will also work on our portfolio of internal products.
You will input your knowledge into discussions around architecture and technical design, as well as taking ownership of projects where required and see them through to completion. This could involve dealing directly with clients to guide them through their problem.
Your day to day role will involve the development of complex and interactive database-driven websites and web applications, as well as maintaining existing sites across various platforms, including WordPress, OctoberCMS and Laravel.
A significant part of the role will be working on bespoke plugin development and driving our expertise in our marquee platform, OctoberCMS. An understanding of server management would help us to manage our dedicated servers as well as client servers.
What we think you'll need?
You will need strong back-end experience, coupled with modern JavaScript skills in this role. While it is essential to have experience of WordPress if you already have Laravel proficiency (in PHP 7+) or exposure to OctoberCMS it would be a big plus.
You will be able to work with both relational (MySQL), and NoSQL databases (MongoDB), MySQL variants such as MariaDB or Amazon RDS would also be advantageous. Experience of RESTful API development is also necessary to be successful in this role.
While primarily a back-end role, you should be comfortable with at least one frontend framework (ideally VueJS or AngularJS) and have working knowledge around server-side technology. You will also understand how to implement unit testing, integration testing and continuous integration.
It's crucial to demonstrate an excellent understanding of commercial and client-centric considerations when designing and delivering a technical solution and be comfortable dealing directly with clients - either by email, in-person or on the phone.
You will be happy to work as part of a small team, but also working as an individual, when required, taking ownership of your workload and projects.
Why Pixel Pixel?
There is excellent scope for career development at Pixel Pixel. We believe that the more skilled our people are, the more value we can add to our clients. In addition to being immersed in modern web technologies daily, as part of your continued development, you will receive one day spread over a month to devote purely to training activities.
Our office is a relaxed place to work; we have a casual dress code and a friendly and enthusiastic team. We aren't a 'silicon valley-wannabe' type agency; we believe that having a good work-life balance is essential to a happy and productive team.
If we do need to work extra hours to finish a special piece of work or resolve a particularly tricky issue on a client's site, we adopt a flexi-time approach to recovering time.
You will also receive a package of benefits including a basic salary up to £35,000 (DOE), 23 days' holiday (plus your birthday off), gym membership at one of Swindon's newest gyms and monthly team lunches.
Where are we based?
Based in Swindon, just off the A419 and close to the M4, our offices are convenient to reach from anywhere in Swindon and the surrounding areas. There is also free car and cycle parking on site.
While we ideally want someone on-site full-time, we will consider UK based applicants looking for remote working. However, there will be a requirement to travel to site once or twice a week at a minimum.
Interested in applying?
We will respond to all applications we receive within 2-3 working days of your application. Our recruitment process involves three stages; an initial Microsoft Teams call, an online technical development test, and a final face-to-face interview.
If you'd like to become part of the team, please send your CV to [email protected].
No Agencies Please.