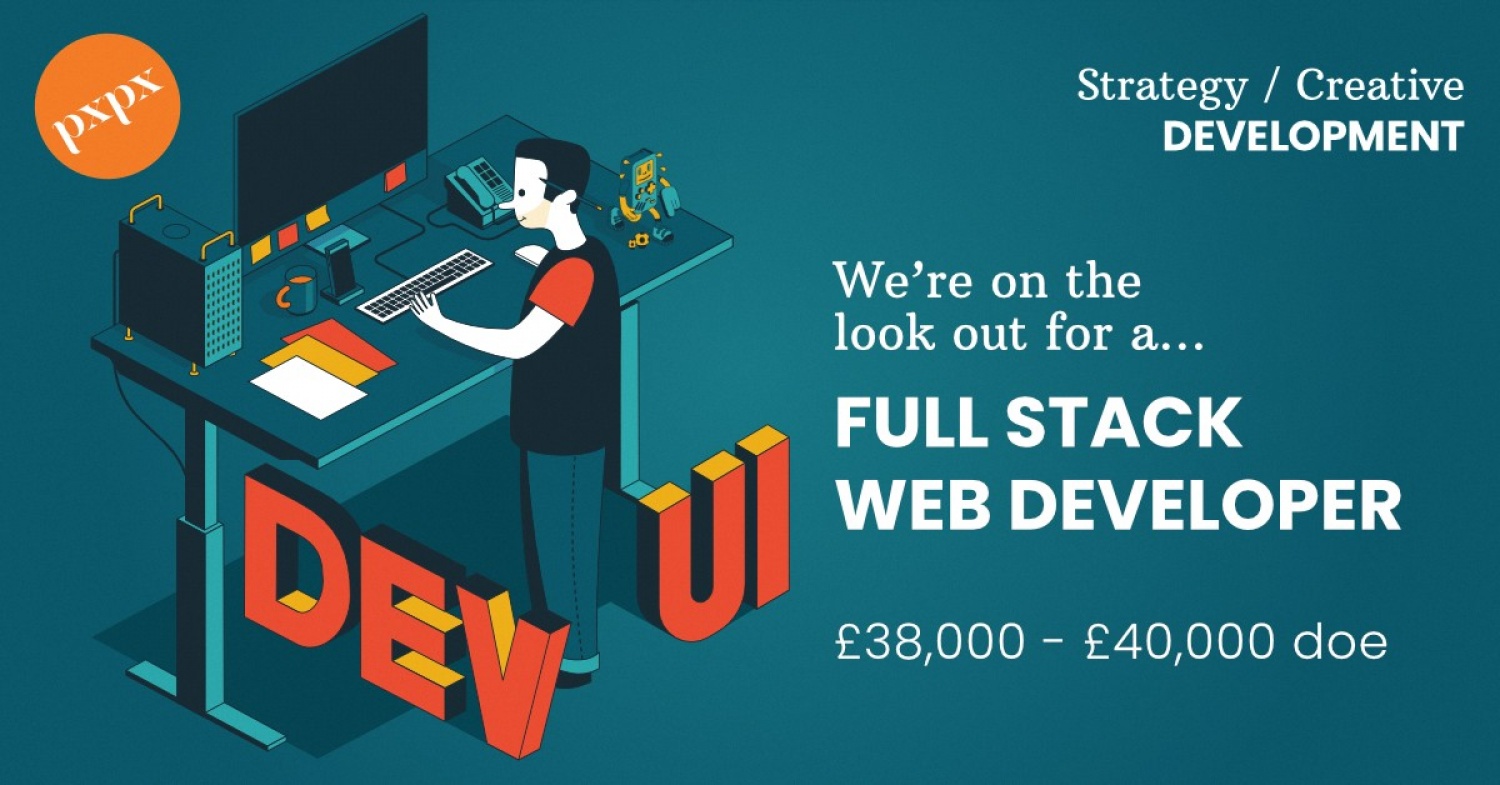 You'll join our welcoming team of development, creative and strategic experts to work on a range of diverse web projects – bringing your 'all-rounder' experience to both front and backend development tasks.
It's a great time to join our growing team and help mould the direction and ongoing success of a forward-thinking, modern web agency.
How can you help?
As a Full Stack Web Developer, you will work closely with our Managing Director, Digital Delivery Manager, and existing in-house and remote developers.
Your day-to-day role will involve developing complex and interactive database-driven websites and web applications while maintaining existing sites across various platforms, including WordPress, OctoberCMS and Laravel.
You will input your knowledge into discussions around architecture and technical design, including TDD and take ownership of projects where required to see them through completion. This could involve dealing directly with clients to provide a solution for their problem.
As an experienced full-stack developer, you will also use your knowledge to help up-skill the development team while collaborating on WordPress, VueJS and Laravel projects.
A vital area of this role will be to help manage and improve security procedures in future and existing web applications. As such, you will have a good understanding of security implications that may apply through CI/CD implementations and web applications.
What we think you'll need?
You will need strong backend experience coupled with modern JavaScript skills in this role. While it is essential to have WordPress experience, if you already have Laravel proficiency (in PHP 7+) or exposure to OctoberCMS, it would be a big plus.
Exposure to both relational (MySQL), NoSQL databases (MongoDB), and MySQL variants such as MariaDB or Amazon RDS would also be advantageous, and you will be used to working with various server-side technologies and setups to aid with DevOps tasks. Experience in RESTful API development is also necessary to be successful in this role.
As an 'all-rounder', you should be proficient in backend and frontend technologies, with at least one frontend framework (ideally VueJS) and have working knowledge around server-side technology. You will also understand how to implement unit testing, integration testing and continuous integration.
You will know what it takes to design commercial and client-centric technical solutions and be comfortable dealing directly with clients - either by email, in-person, via project management tools or on the phone.
Why Pixel Pixel?
There is excellent scope for career development at Pixel Pixel. We believe that the more skilled our people are, the more value we can add to our clients.
Our office is a relaxed place to work; we have a casual dress code and a friendly and enthusiastic team. We believe that having a good work-life balance is essential to a happy and productive team, so we operate a 60/40 split between our offices and home.
You will also receive a package of benefits, including a basic salary from £38,000 to £40,000 (DOE), 25 days holiday (plus your birthday off), gym membership at one of Swindon's newest gyms and monthly team lunches.
Where are we based?
Our offices in Swindon are conveniently located just off the A419 and close to the M4. There is also free car and cycle parking on-site, and multiple bus routes serve the area.
While we ideally want someone on-site full-time when we return to the office, we will consider UK based applicants looking for remote work. However, there will be a requirement to travel to the site a few times a month at a minimum.
Interested in applying?
We will respond to all applications we receive within 2-3 working days of your application. Our recruitment process involves three stages; an initial Microsoft Teams call, an online technical development test, and a final face-to-face/Microsoft Teams interview (dependant on current restrictions).
If you'd like to become part of the team, please send your CV to [email protected].
No Agencies Please.